Deep cleaning services NJ
The cleaning services have never been so professional and thorough, thanks to 
deep cleaning NJ
.
Perfect cleanliness begins with deep cleaning NJ that includes cleaning the floor and all the surfaces. Deep cleaning NJ can be different, but washing floors and cleaning surfaces is an indispensable element of any cleaning, even the most minimal.
Daily cleaning is different from the cleaning, which must be done at intervals that directly depend on the traffic in the rooms, sleeping quarters, corridor, office, or store. The regularity of the so-called deep cleaning NJ depends on the type of floor and surfaces.
Sunlight Cleaning company provides deep cleaning service in NJ. Our professionals have knowledge of cleaning technologies and are well versed in the features and types of floor surfaces. They also understand the importance of the correct choice of chemicals for specific surfaces.
Floor coverings and other surfaces become heavily soiled over time, as well as due to the high traffic of people. The dirt gets deep into the pores, and even the best manual cleaning does not give the desired result. The floor remains dirty. In such cases, the Sunlight Cleaning company uses the advanced technology of deep cleaning of floor coverings.
We carefully select the chemistry that best suits your surface. Because the wrong selection of products can spoil or even burn the covering. With a rotary machine and a vacuum cleaner for collecting liquid dirt, the work is carried out quickly and efficiently.
In the process of cleaning, the cleaning workers also use a rotary machine that cleans and pulls out dirt from the pores of the surface with a special brush and chemicals. All detergents have certificates of quality and environmental safety.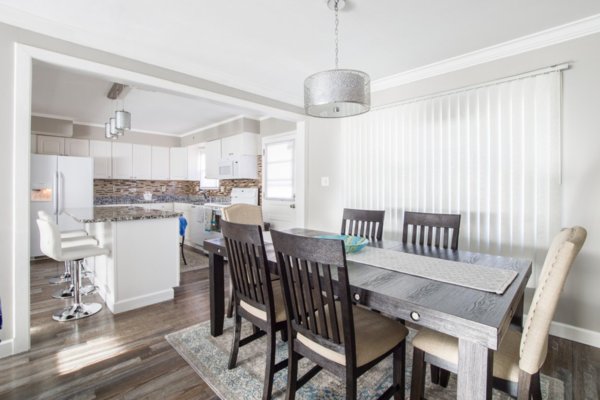 We perform work at a convenient time for the customer, including holidays, weekends, and sometimes even night shifts. After deep cleaning of the floor, the surface, be it linoleum, natural stone, or ceramic tiles, becomes absolutely clean and looks like a brand-new one. Deep floor cleaning in commercial premises with high traffic should be carried out at least once a year. If you order this service at our company, you will receive cleaning from professionals at an affordable price.​
Deep cleaning includes a series of works, the purpose of which is to remove all dirt (including grime), return the surface and the coating to its original appearance, and protect the coating from external influences.
We do the following cleaning works:
vacuum cleaning 

(We use professional vacuum technology of high power);
cleaning with a hydro-vacuum cleaner;

distribution of the washing liquid and washing with special equipment (rotary machine);

floor neutralization
We include in deep cleaning:
preparation of premises (rigging).

deep cleaning of the floor using a rotary machine

collection of liquid mud

rinsing everything with water

wet floor cleaning

post renovation cleaning NJ
Deep cleaning NJ stages:
Applying a chemical solution to the floor covering; (The solution is applied using hand tools as a preliminary soaking for better penetration of chemicals into the surface. It's important that the solution does not dry out in the pores, as this will complicate further cleaning)

Cleaning the coating with a rotary machine; (A single-disk rotary machine is perfect for cleaning the surface. The brush rotates at low speeds to mechanically clean the surface, but its main task is to apply surfactants to the pores since they push the dirt out of the pores).

Removal of the waste solution with a hydro-vacuum cleaner; (We perform this procedure with a vacuum cleaner to collect liquid dirt that has come to the surface. If not collecting the dirt completely, it will sit in the pores again. Therefore, this stage is very important).

Neutralization of residues of a solution with special detergents and final rinsing of the surface. (We neutralize residues of chemicals by using special detergents followed by rinsing with water)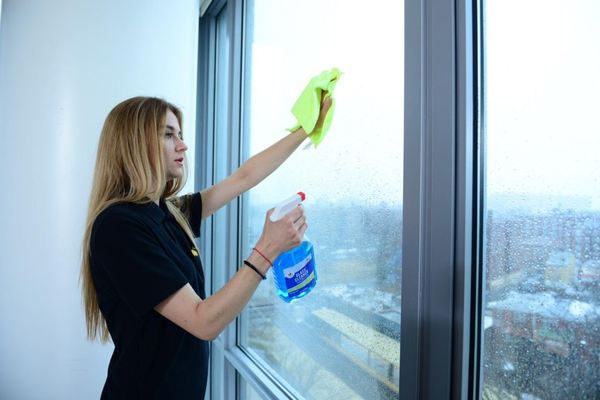 Popular Questions and Answers about Deep cleaning services NJ
What equipment do you use for deep cleaning?
Our cleaning company has all the necessary equipment with which a high-quality cleaning of the apartment can be carried out. We have rotary machines, washing vacuum cleaners, steam generators, and other equipment (We deliver vacuum equipment for extra 100$ for extra request).
For cleaning, we use various detergents, chemicals, and eco-friendly means to remove stains and dirt.
How much does deep cleaning NJ cost?
The cost of services is formed based on the type of cleaning that needs to be carried out, room area, whether it is necessary to wash the windows,
etc. You can call us, and our consultant will make you a free estimation.
How long does this type of cleaning take?
On average, one employee cleans an average room with windows for 3-4 hours.
When do I need to place an order?
It is advisable to place an order 1-2 days before you want us to perform the cleaning. However, if there is a need for an urgent cleaning of your home or office, our team will try to get the job done immediately.
What is needed from the apartment owner for the deep cleaning preparation?
As a client, you only need to show us the upcoming cleaning plan and provide us with water.
We have all the necessary equipment with us.
Why is deep cleaning NJ profitable?
General cleaning of high quality will help you put things in order in your apartment and create a pleasant warm atmosphere for living. And you choose on your own whether to do it yourself or entrust it to cleaning specialists.
Remember, no matter how much effort you put into cleaning your apartment, a professional will cope with it better. Because professionals have at their disposal detergents of high quality and special equipment and the knowledge gained during training.
The Sunlight cleaning company's employees will help you achieve perfect cleanliness in your apartment without any effort on your part. Cleaning will be fast, convenient, and profitable for you!