Office Cleaning Services NYC
Welcome to your clean office after Office Cleaning New York!
Why do we need office cleaning services NYC? You spend a big part of your everyday life in the office. Its cleanliness has a great influence on the work environment and wellness of the employees. The office can be the second home for us, so you should feel yourself there like it really is in terms of cleanliness. A clean office guarantees more productive work of the employees. Our office cleaning services NYC will help you maintain immaculate cleanliness at your workplace.
If you have a clean workplace, it will bring you many advantages.
For example, it can guarantee a good first impression, because your workplace can tell a lot about you. People will treat you as a serious professional if everything is clean and well-organized around you. Also, it can bring a healthy work environment for the employees.
We know that mess, dirt and bad organization of the environment can affect our health. But if we clean up our office regularly, it will eliminate bacteria that can be potentially dangerous for the health of office workers.
Office cleaning services nyc will help maintain a healthy environment around you. Last but not least, the atmosphere of cleanliness can boost efficiency and reduce the stress of the working staff. As a result, thanks to office cleaning New York, the employees can become more productive. The less dirt and disorder it is around, the fewer distractions there are for your workers.
Our professionals at office cleaning services NYC want to perform office cleaning at a high level and use the professional approach. Our price policy is flexible, so our objective is that office cleaning New York should be affordable for everyone. We try to adapt to the working schedule of our clients in order not to disrupt the working process. We use modern techniques, equipment, and detergents because we care about the health and safety of our clients.
 Why should you order our office cleaning services NYC?
Because our professional cleaners have vast experience. 

All of our procedures are safe. 

We use only certified detergents and equipment.  

We provide you with a cleaning supply without any extra charge. 

In addition, our office cleaning New York company is bonded and insured.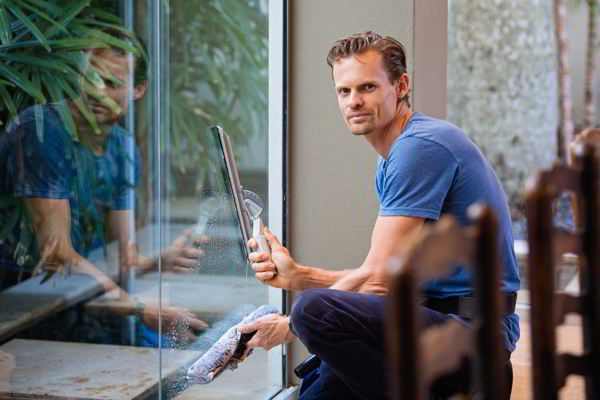 At first, our staff review the office space systematically, make a checklist with all necessary stages of dusting, removing dirt, sanitizing and vacuuming, We wipe down, polish and Swiffer even some hard-to-reach areas that lack necessary attention.
Our office cleaning services NYC include:
dusting, wiping down, washing of all reachable surfaces
cleaning and dusting of office equipment
cleaning inside and outside of kitchen appliances
basic cleaning of the bathroom
vacuuming and polishing of the floors, thorough vacuuming of the carpets.
our office cleaning services nyc cover all possible office areas as following: common areas, bullpens, corridors, cubicles, private work areas, kitchens, bathrooms, break areas, conference halls, boardrooms, lobbies, reception, etc.
 Popular Questions and Answers about Office Cleaning Services by Sunlight Cleaning
How much do you charge for Office cleaning in NYC?
How to get office cleaning services in NYC?
What is office cleaning services?
It is a daily or weakly cleaning of your office space which prevents the spread of infection and creates a better working place.
How to find your production rate for office cleaning services?
Call us and our salesperson will give you the best rate.
What are the benefits of hiring professional office cleaning services?
It is very important to hire a professional cleaning company because our cleaning crew is trained to clean and prepare your working space.
Why I should hire office cleaning services?
When you hire an office cleaning service you receive a professional service which includes: dusting, sanitizing, organizing, and cleaning of all your office.
What services does a cleaning company provide to an office?
Office cleaning includes:
-dusting;
-wiping down of all surfaces; 
– sanitizing of all office equipment, doors knops, working desks; 
-kitchen cleaning;
-bathroom cleaning; 
-vacuuming and washing the floors. 
What do you do in an office deep cleaning?
Office deep cleaning is a more detailed cleaning. It includes windows and windows sills cleaning (only inside), all surfaces dusting and cleaning, kitchen cleaning inside and outside, deep cleaning of the restrooms, vacuuming and washing of the floors and moldings, sanitizing of the desks, doors, and office equipment.
If you want to turn your office into a neat and tidy place where the workers feel comfortable, do not hesitate to call us right now! Our responsive and friendly customer service is always ready to help you!