No matter how much you clean, it's a mess again in a couple of days, isn't it? It's easier to correctly organize the space once than to put things in order from scratch every time. Today we're going to tell you about these exciting house cleaning and organizing services lifehacks from professionals with you. 
About Sunlight Cleaning NY
Hey! I am the co-founder of Sunlight Cleaning. My job is that rare case when my hobby entirely coincides with my professional activity. Since childhood, I like to put things in order and organize space in cabinets and shelves, choose proper jars, baskets, and other containers for storing items. I listened to my inner voice and took into account my strengths. That's how I realized that this is my calling. I have been working as a house organizer for 3 years providing house cleaning and organizing services. I am incredibly excited about the result that is almost immediately visible.
My team and I help families create order, comfort, and coziness, taking into account the wishes and needs of all family members. 
The essence of our profession does not to give advice, do not to impose opinions, but look for solutions together with the customers while providing them with detailed cleaning and organizing services for a house!
House cleaning and organizing services – Top 8 organizing tips 
Today we will talk with our experts at house cleaning and organizing services from Sunlight Cleaning about the correct organizing of the space of your room. If you have just bought an apartment and want to arrange the area as comfortably as possible to not clutter it up, this article is for you! 
You will also find many valuable tips here if 
your apartment is far from being new, but you are not satisfied with the amount of free space in your dwelling

it is difficult for you to neatly store things in your small apartment and, as a result, they are scattered everywhere

you just want to re-plan the apartment a little bit without significant expenses 
If you organize the space around you correctly (no matter on your own or with cleaning and organizing services), you can comfortably live and work, gather friends, and arrange romantic meetings even in a humble dwelling.
You need to organize the space as functionally as possible in a small apartment or apartment with a single room. How to do it? We have prepared 8 available life hacks on how to store a variety of things efficiently. You can quickly put these tips into practice on your own and apply them to any apartment. 
1) Make a dressing room. 
It is quite possible to make a dressing room even in a 20-square-meter room. Just allocate 2-3 square meters for this space and separate it with partitions. This storage system can replace all the wardrobes and dressers in the room because the area is used rationally. Moreover, you can also choose what to fill the dressing room with on your own depending on the number and type of things in your family.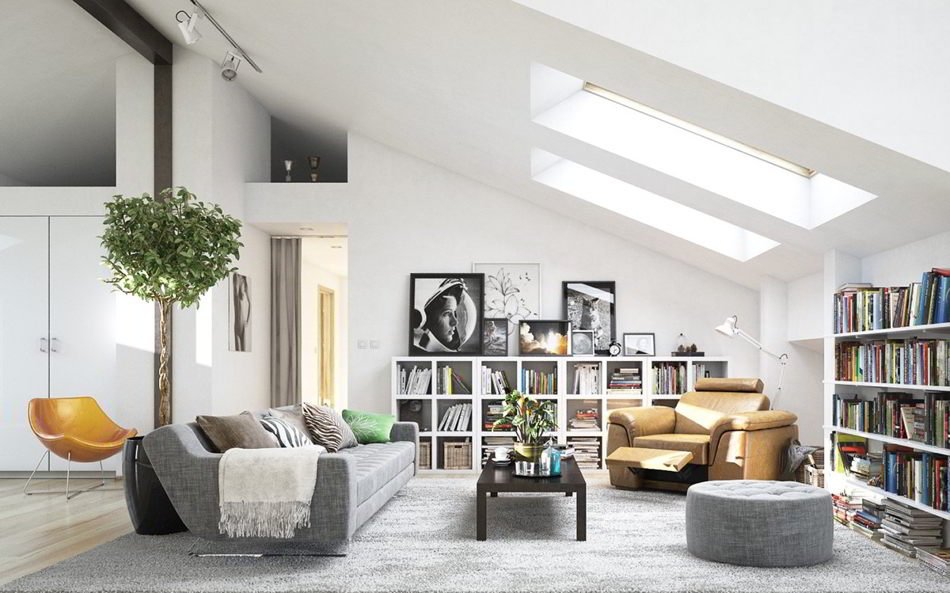 2) Combine the living room and bedroom using zoning. 
Even if you have only one room, do not hesitate to have a full-fledged living room and bedroom. It is quite possible to distribute space and allocate several zones. 
There are several ways to divide a room into 2 different functional zones. 
You can make partitions from a wide variety of materials: plasterboard, wooden slats, glass (frosted or transparent). 
It is an exciting solution if the partition is also the head of the bed in the bedroom area. 
If there is only one window in the room and you want to have natural light in both areas, make a non-continuous partition or arrange a false window in it.
Tip! It is better to arrange the sleeping area in the part of the room closer to the window. Natural light and fresh air are essential for healthy sleep and a pleasant awakening. 
You can use the fabric to separate functional areas. The advantage of this method is visual lightness and quick transformation. If you need to visually divide the room, close the curtain. If you want more space, open it. 
This is a cheap and easy way to divide a room into two zones. Screens can be made of wooden patterned or plain slats. If necessary, you can easily fold and put them into a closet or move them to a corner of the room. 
Lightweight open shelving does not create a feeling of bulkiness and is perfect for zoning. In addition, it is easy to use it as an additional storage place for books or some useful little things. Just put them in beautiful boxes, and they will not create visual noise in the room). 
Use different shades in two rooms in wall decoration, flooring, furniture selection. It is better not to combine contrasting opposite colors but to pick up hues from one palette. 
Most often, people, who want to create a space for a bedroom, place a bed on the podium. Thus, it is visually separated from the whole room. Build a rostrum that is 10-20 cm above the floor level. 
The easiest way is to divide the room into several parts using light. For each zone, choose different lighting scenarios. For example, let it be a sconce above the bed or table lamps on the bedside table in the bedroom, and a floor lamp by the sofa in the living room. But do not forget to think about general lighting. You will definitely need it.
3) Leave some space for your desktop. 
Be sure to leave some space for your desktop with your laptop. It will surely fit into any room, and it carries a considerable functional load. First of all, you might need your workspace at home especially considering the current reality. Secondly, the desk can be transformed into a dressing table. 
4) Use functional furniture 
Buying furniture "for beauty" in a one-room apartment is a far-fetched idea, even if this room is pretty big. Let each item fulfill a functional role. For example, a pouf can have a folding mechanism and storage space, and under the bed, there will be storage boxes. 
5) Give preference to transformable solutions. 
It is better to spend a little more money than buy a sliding table or a sofa with a folding mechanism. You may want to host guests who want to stay overnight, or your parents will suddenly come to visit you. Pay attention to the folding tables — this is how to fold the workplace quickly, and it will not take up space. The most popular convertible furniture is a bed in the closet. But if you have already put in a full bed, there is no need for it. 
6) Make a children's area. 
If you plan to have a baby, you most likely need to refuse to have additional zones. It is better to make a full-fledged children's room with a dressing place and put a crib with all the necessary accessories (chest of drawers and changing table, shelves for baby clothes, and hygiene products). Where, then, to organize the living room even without professional home organizing services? In modern flats, it can be in the kitchen. You can even use the hallway for this purpose.
7) Use the windowsill. 
Don't underestimate this functional space. Even in a 20-square-meter room, with the help of a window sill, you can save space for a desk, a dressing table, and also equip a place to relax there. And the last sound idea is below. 
8) Use storage systems 
If a family of three lives in a one-bedroom apartment, one cabinet is definitely not enough. How to place all things and at the same time leave some free space? Making custom storage systems is a great solution. For example, decorate the window with shelves, and equip cabinets around the sofa in the living area. And don't forget about the mezzanine, a very functional storage space above the door.
Conclusion to house cleaning & organizing services tips:
If you listen to at least some of the advice from our experts, your home will change dramatically.
You will notice that the apartment seems to have become more prominent and now the mess in the house happens much less often.
These practical life hacks will help you store things properly without scattering them all over the room and will help you visually create more free space.
The significant advantage is that you do not need to do reconstruction and re-planning works and order spring cleaning services too often since these methods are easy to implement without unnecessary efforts and expenses. But suppose you want to put your apartment in order professionally without wasting your time at all. In that case, it's time to invite a professional house cleaner & organizer and order house cleaning and organizing services!
You're in the process of finishing a hectic project at work, and the burnout isn't letting you...